Fostering Women's Entrepreneurship & Growth in Non-traditional Sectors in Peru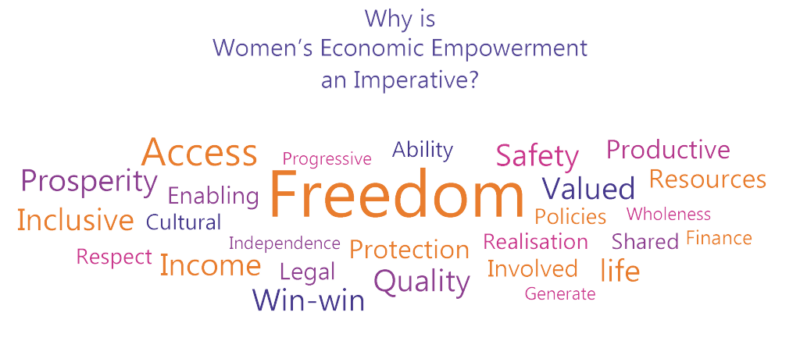 WEI Forward has partnered with ICE (International Consultants for Entrepreneurship and Enterprise) to launch the pioneering programme "Women entrepreneurs – Going for Growth". The project was one of three projects to be awarded funding from the UK Embassy in Lima, competing with more than 50 others initiatives.
On 14 August 2018, "Going for Growth" was launched at the Residence of the UK Ambassador Ms. Kate Harrison in Lima in the presence of the Minister of State for the UK Department of International Trade, Baroness Fairhead. WEI experts Yolanda Gibb and Graciela Hijar attended the event where they had the opportunity to present the project and answer questions from the public.
The main objective of the project is to unleash women's entrepreneurship in non-traditional sectors by increasing their leadership and business capacities and strengthening their networks in order to develop growth in their businesses. The focus is to develop a positive environment and capacities to reduce the gender gap in business owners in non-traditional sectors.
This project is designed to enhance women entrepreneurs' participation in non-traditional sectors of the Peruvian economy. It focuses on the following or related industries: the extractive industries (oil and mining); STEM (Science, Technology, Engineering & Mathematics); Environment, Agro-industry, Construction and Financial Services.
The project includes leadership and business development training, mentorship with UK entrepreneurs, and a business trip (for 10 selected participants). The programme focuses on different stages of enterprise growth, specifically:
Going for Growth, for women running established businesses in these sectors and who would like to take their business to the next level;
Building a Platform for Growth, for women active in these sectors who are interested in formalising or consolidating an existing business; or
Breaking into non-traditional sectors, for women with a business idea or with aspirations to launch their own enterprise in one of these sectors.
The programme will run from August 2018 to February 2019 and will be managed jointly by WEI and ICE (International Consultants for Entrepreneurship), two globally-acclaimed organizations supporting women's business growth.
On 13 September 2018, WEI & ICE hosted the first meeting with the 8 women who will participate in the exchange and who own a business in non-traditional sectors, such as soccer academies, security, construction materials, social ventures, mining, medicine and technology. The workshop was led by Dinah Bennett who provided participants with the tools to assess the current performance of their business, its current potential to grow and helped the women start the process of creating an action plan for sustainable growth.
In October 2018, WEI & ICE hosted workshops for +70 women who are looking to start their own business and a range of other workshops for women entrepreneurs who wish to grow their business.
In November, eight women entrepreneurs participating in the program made an immersive exchange visit to the UK, where they had the opportunity to learn more about how to maintain and grow their businesses and establish relations with UK-based entrepreneurs